New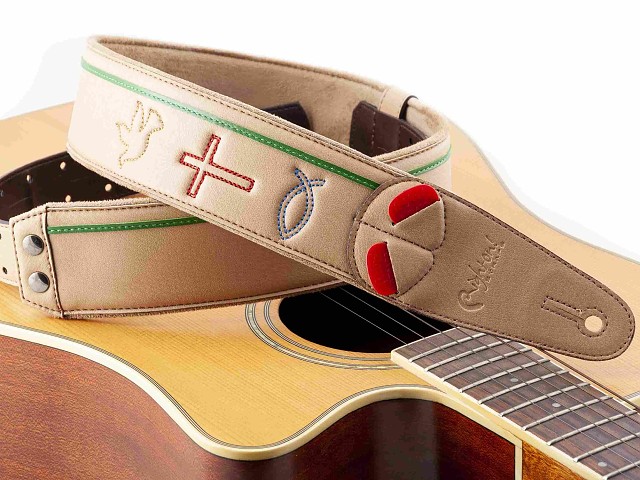 Miracle
Ref. 8419612001787
In stock
Worship Guitar Strap 
Comfortable vegan guitar strap with religious design. This strap can be used for both acoustic and electric guitars or electric basses. Fully adjustable, the design consists of a cross, a fish and a dove embroidered on the beige surface of the strap.
This strap arose as a result of the many requests that have come to our mail, there is a large community of musicians who practice and play in their fields and religious communities.
"Today, "contemporary Christian music" is not properly understood as a musical style separate from other styles, but rather as a musical category whose lyrics represent a Christian faith content. Often, the author or performer of this music gives an evangelistic meaning to his lyrics, in order to express his spiritual relationship, manifest his faith, and/or cause a reaction in the people who listen to the music.
Over the years, Christian music has transcended remarkably. In the last decades, there has been a great increase in the amount of Christian music produced in evangelical churches and other Protestant or non-denominational branches. Many singer-songwriters have emerged who now have international fame, both in the Anglo-Saxon and Latin American world. Such is the influence of Christian music that it is a category taken into account in several international music awards, such as the Grammy Awards and since 2003 in the Arpa Awards.
Contemporary Christian music is usually considered diverse in terms of the musical styles it comprises. Since the second half of the 20th century there have been musicians in this category who have ventured into various musical genres ranging from renewed forms of messianic music, the more classic contemporary genres such as gospel, soul, ballad, folk, country, blues, jazz, pop, alternative rock or Christian rock, to metal, hardcore; Latin rhythms such as mariachi, salsa and ranchera music, or more modern rhythms such as hip hop, reggae, reggaeton, electronic music, and even other contemporary musical styles such as global music.
In addition, there is a musical subcategory derived from contemporary Christian music; this is known as "worship music" or contemporary worship music, which in essence is a modern form of Christian congregational music, whose compositions are often called "praise songs" or "worship songs" that are performed by "praise bands". Worship, is heavily influenced by virtually all genres of music." (Wikipedia)
This strap is 6 cm wide. And has a long between 95-145 cm with the exclusive RAS (Righton Adjustment System) to adjust the strap to the desired length.
Charm strap is made of high-tech synthetic materials. The materials have been tested, so we can ensure the durability of them. As in all the MOJO Collection, this strap is made without any cruelty to animals, they are vegan straps. It also has a microfiber lining that doesn't slip, therefore preventing sweat marks.
This strap is padded with 5 mm latex, which makes it very comfortable and lightweight. In the front end tab, has two small pockets for the picks, and in the back end tab has two "Fast pick dispenser". You'll never lose your picks, or throw them to your audience!.
All the RightOn! Straps are designed and manufactured in Spain.