FAQS
I have lost a screw or metal part of the RAS system of my strap, What can I do to replace it ?  Where can I order it ? Are there spare parts for the hardware ? 

Any screw or hardware for the RAS system can be replaced, and you can find a set of replacement screws for the RAS guitar strap at this link.
Meanwhile, you can see in this image a trick to adjust your strap with the same security that with the RAS system, but simply using a cord or lace: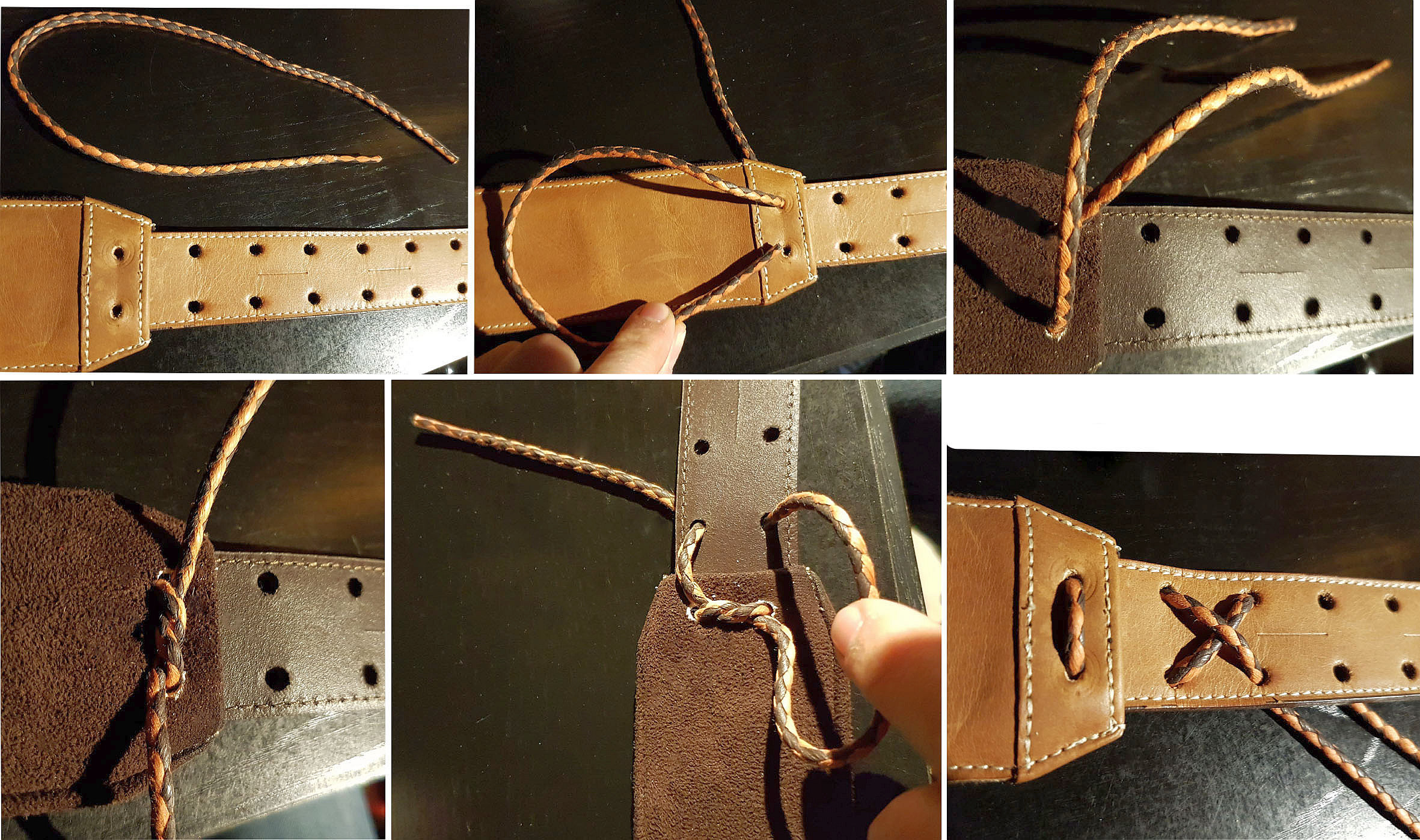 What are guitar straps ?
Guitar straps are an essential accessory for bass and guitar players or anyone who wants to play a stringed instrument and be able to hold it while standing or sitting, although it is common that we forget about straps or choose them last without taking them much into account, because they were a gift or simply came in the pack with my guitar.
There is no doubt that this is a mistake: the strap not only holds the guitar, but keeps it in a comfortable position for us to play and distributes its weight properly across your shoulders so that we don't get tired or, even worse, suffer injuries after several hours of playing. Important, yes ... Very significant indeed.

Deciding a good strap for our guitar is indeed essential, and even more so if we play a particularly heavy guitar or bass. Another thing that seems silly and that is a detail to take into account: the straps are an aesthetic complement that will complement our image, a complement that, as in fashion, usually can be changed (it is always cheaper than changing the instrument ;) ) and configured so that when we choose our strap we go out to play and feel good with our taste, style and personality.
Why RightOn!Straps?
6 reasons for selecting RightOn! Straps
1. All of our articles are designed and handcrafted in Spain.
2. We select the best quality raw materials that comply with Reach legislation, ensuring they are free of chemicals harmful to health .
3. It has one of the largest ranges of length adjustment in the market at no additional cost (from 95 to 150 cm. or from 95 to 143 cm.).
4. It includes double exclusive pick holder in all models (except MAGIC collection models: French, Seat, Rim, Big with one pick holder only)
5. It incorporates the exclusive length adjustment RAS (RightOn! Adjustment System).
6. Our prices are half the price of other straps in the market on the same or lower quality.
Who are RightOn! Straps for?
For guitar and bass players who appreciate exclusive and attractive designs and maximum comfort whilst playing.
For guitar and bass manufacturers who need exclusive creations in line with their instruments to provide greater value and business opportunities for their products.
What to consider when choosing a guitar strap?
When purchasing or buying a guitar strap, we have to consider the following factors:
Width: Obviously, the heavier our guitar is, the wider the shoulder strap should also be (usually between 4 and 8 centimeters). Many straps, almost all RightOn! straps have a high-density latex padding that makes them very comfortable.
Length: Virtually all straps are adjustable, but, just in case, to know what the range of adjustment is we need to measure the distance from one button to another across the shoulder, the easiest way is that if you already have a strap, measure the distance on this strap.
Comfort: this is a key factor, but also very subjective. Some people prefer padded straps, while others are comfortable with a simple flat, unpadded shoulder strap. It depends on the individual. The strap should be comfortable for us, so before we decide, we should try it on our guitar or bass. With a comfortable and padded strap you will avoid some characteristic pains of those who use very heavy instruments, or simply with the passage of time the body takes its toll.
Materials: very important, we must take into account the resistance of the material to tension, to humidity... if we sweat a lot, for example, perhaps a strap made of synthetic materials will suit us, since leather is a champion of absorption and of transmitting humidity to the instrument, in the case of a synthetic strap it is even possible to put it in the washing machine. Once again, it will depend on our needs and the characteristics of our instrument, but in RightOn! we care about this and both the padding material is minimally absorbent and the microfiber that accompanies some straps repels moisture to a high degree.
Do I need to do anything to take care of my RightOn!Strap?
Unlike shoes, leather jackets or other leather goods which are exposed to environmental elements, we do not anticipate that users of our straps will expose them to harsh conditions. Under normal use, we do not expect that it will be necessary for you to add leather polish or other treatments to protect the quality of your strap.
What makes the Righton! Guitar and bass straps different?
The materials used for making any Righton! Guitar and bass strap are carefully selected to ensure the production of a higher quality straps than the currently found on the market. Moreover, our traditional production process which takes place under continuous quality control allows us the production of straps with a higher quality than any others currently found in the market… Furthermore, Righton! Straps comply with Reach legislation, ensuring that our products are free of chemicals harmful to health.
Instruments treated with Nitro Lacquer or Nitrocellulose
We have had some inquiries about it and consequently we consulted different luthiers and people of the sector of the construction of instruments and the question is that with the nitrocellulose even the proportion in which it is applied, the mark, the form to apply it and another series of factors influences in the final result, of course external factors such as the rubber of a stand, the case, the belt of the pants, the strap or whatever you can think of that comes into contact with the instrument can affect it, so you can not guarantee 100% that the Nitrocellulose can be affected by a guitar strap RightOn! However, this has never happened to us. We always recommend storing the strap separately from the instrument after each performance as sweat, moisture and other factors can affect the strap.