New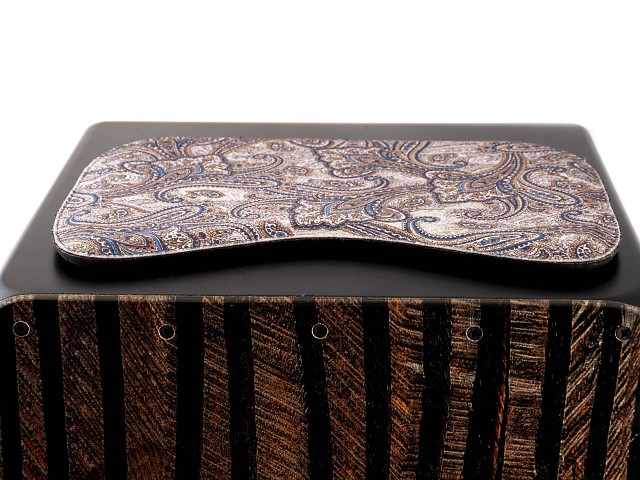 Cajon Pad Paisley Velvet
Ref. 8419612001961
In stock
Cajon pad for Peruvian Cajon 
The Cajon pad is a cushion-shaped percussion accessory that sits atop the Cajon and provides extra comfort for the musician, reducing fatigue from extended playing sessions. The pad is composed of paisley velvet on the upper surface and HQ EVA foam on the lower surface, a soft and lightweight non-slip material. It measures 26cm wide x 20cm and is 1.5cm thick, fitting snugly on the Cajon without any adhesive or fasteners required. We also have the option of the drawer pad with cork surface.
Not only does the Cajon pad offer comfort, but it also enhances the playing experience by reducing unwanted harmonics and producing a clearer and more precise sound.
This "cushion" for cajon has been designed and developed in collaboration with ABueno Percusión, a reference in the world of the cajon.
The Cajon pad's goal is to keep the musician comfortable and avoid sliding while playing, achieving the "happy bottoms" concept.
The Cajon, a percussion instrument originating from Peru, has gained popularity in various music genres worldwide, notably Latin and Flamenco music. To play the acoustic Cajon, one must sit on the box and use their hands and fingers to create a range of sounds and rhythms by striking different areas of the box. A Cajon pad is a valuable accessory for all levels of Cajon musicians, making playing more comfortable and enjoyable. More info about our cajon pad in our blog.